Beyond FAFSA/CADAA
Maximizing Your Money
Families of middle and high school students:
Are you interested in learning how to start saving for college with the state's help? Would you like to know how to understand the financial aid your student may receive? As a section of SCUSD'S BEYOND FAFSA/CADAA Series, Financial Experts will share with our community about "How to begin a college savings plan regardless of your student's age, and How financial aid works so you and your student can maximize the money."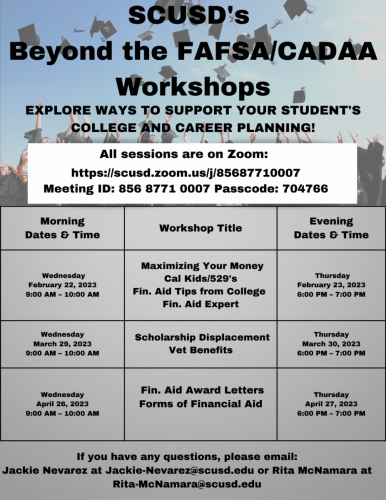 Please join us Virtually for Beyond FAFSA/CADAA: Maximizing Your Money:
Dates:
WEDNESDAY, FEB. 22 at 9AM-10 AM
THURSDAY, FEB. 23 at 6:00PM-7PM
Location:
Both sessions are via Zoom: https://scusd.zoom.us/j/85687710007
Meeting ID: 856 8771 0007 Password:704766
We will cover the same information in both sessions so feel free to select which date and time work best for you.
If you have any questions, feel free to reach out to: Jackie Nevarez (jackie-nevarez@scusd.edu), or Rita McNamara (rita-mcnamara@scusd.edu).